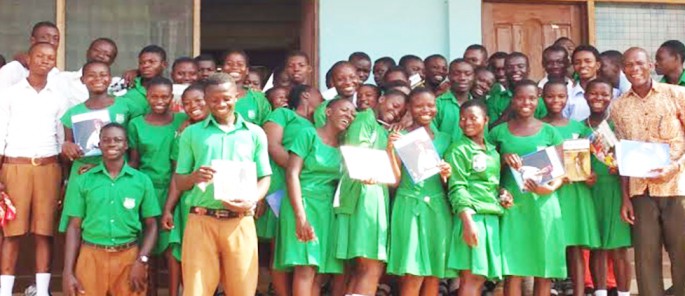 T.E.I in Joy Fm News
Viola Tebah, a Ghanaian model living in the United States, has offered scholarship to three brilliant but needy students at St Michael Senior High School, a less endowed school at Ahenkro near Kodie in the Afigya Kwabre District of the Ashanti Region.
The beneficiaries, all first year General Arts students would have their fees paid by the Tebah Education Initiative, an organization established to encourage and motivate students across the globe.
The scholarship package was announced at the opening of the 'People to People' chapter in the school and saw the three beneficiary students — Doris Asante, Mary Dufie and Mary Serwaah — smiling back home with at least an assurance of completing their senior high school course barring any hitches.
"I never expected this good news. I don't know what to say" were the words of Mary Dufie who is supported by her poor peasant farmer father.
This means she stands a better chance of accomplishing her childhood dream of becoming a teacher.
The Ghanaian-born model and accountant by profession, Viola Tebah said he has a vision to provide the tools and means for a quality education and essential living for students across the globe beginning in Ghana.
Providing scholarship through the Tebah Private Donor Award Scholarship, students would be provided with Self Awareness Mentorship Programs (SAMP) and encourage them in self-development activities.
Students are nurtured through debates, sports and other extracurricular activities to give hope, inspire, motivate, and encourage students across the globe to strive for academic excellence.
The announcement was made by a Hospital Corpsman of the United States Navy, Andrews Nyantakyi on behalf of the Tebah Education Initiative.
Mr. Nyantakyi himself studied at the Technology  Secondary School, now the Kwame Nkrumah University of Science and Technology SHS through to the Garden City University College before joining the US Navy.
"I was once like you.  I was proud that I went to Sec-Tech but I did better than those at OWASS (Opoku Ware SHS) and Prempeh College. Your classrooms are not nice but you have a better opportunity here. Let your books be your friend. Study hard as you read your Bible". Mr. Nyantakyi told the students.
Former US President, Dwight Eisenhower launched 'People to People' project in 1956 as a surest way to break cycles of fear and misunderstanding.
With a vision to create a network of culturally knowledgeable global citizens to actively sustain a more peaceful world, the People to People International affords member students the opportunity to access grants through proposals to improve their localities.
It then fosters cross cultural learning, develop global leadership skills whilst connecting with international network of people committed to making a positive difference in the world.
Assistant headmaster of St Michael Senior High School, John Kwesi Tetteh was happy at the assistance given the students.
He said such an international exposure will enlighten them, propel them to great study heights whilst opening up the school.