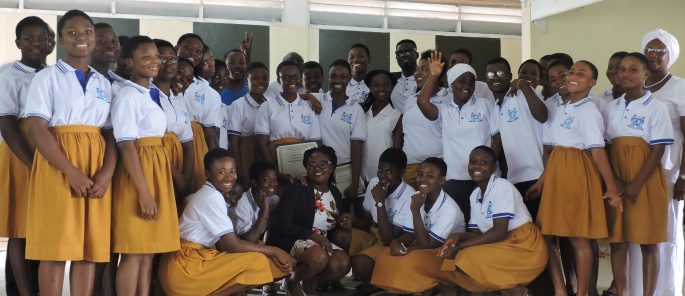 Educational institutions must offer solutions to societal problems
By:
Tebah Educational Initiative
Feb 26, 2018
Accra, Jan. 10, CDA Consult – Ms Viola Tebah, founder of "The Tebah Educational Initiative," has challenged educational institutions to holistically developed human resources for the global market.
"The essence of modern education is to unearth skills and totally equipped the graduates to offer solutions to societies numerous problems….any educational system which produces graduates to add-up to societal problems needs to examine its mandates.
"Ghana and Africa needs pragmatic youth who are ready to brace the storm, explore global opportunities and resources and use it to solve domestic challenges," Ms Tebah stated in an interview with the Communication for Development and Advocacy (CDA Consult) in Accra.
She said in 2018, Tebah Educational Initiative would step-up programs aimed at creating a platform for mentoring students to reach their full potential.
"We will step-up efforts to nurture students on the right path to life," she said, stressing that the foundation last year influenced the lives of about 200 students in Ghana and over 6,000 students in the United States, Haiti, and South Africa.
Ms Tebah noted that this year the foundation would continue to encourage and motivate students through educational programs, mentorship and scholarship opportunities across the world.
The foundation seeks collaboration with strategic stakeholders to provide the tools and means for a quality education which forms an essential ingredients for students across the globe beginning in Ghana to enter in the global workplace.
"Our mission is to give hope, inspire, motivate and encourage the students we work with to continue to strive for academic excellence. We offer students the opportunity to excel throughout their education for the advancement of their country and the world at large.
"We offer scholarship opportunities through the Tebah Private Donor Award Scholarship scheme, provide Self Awareness Mentorship Programs, and encourage students in self-development activities by engaging them in debates, sports, and other extracurricular activities," she said.
She said through the initiative, "we have high expectations and hopes for our students. We are establishing a culture to harness their skills and talents in their education, while guiding them to become successful future leaders".
Ms Tebah stated, the Educational Initiative has operated in three Regions in the country for the past four years, using creative methods to encourage disadvantaged students to excel by offering mentorship programs, summer camps, afterschool activities and vocational skill training.
Giving an overview of 2017 projects, the foundation climaxed its activities with a six-day event on the theme: "We Mentor, Educate and Care for a Brighter Future".
Students from three schools from the Western Region (Air force JHS, Ntankoful JHS, Archbishop Porter Girls SHS), two from Northern Region (Wamale JHS, Tamale Girls) and one school from the Upper East Region participated in the program.
Students from the various schools graced the occasion with amazing performances in the form of a play on the importance of education, chorography, speeches, poetry and cultural dance.
As part of the 2017 activities students were offered opportunity to develop and present a creative business plan at the event. The groups presented on their business plans from Catering Services, Barbering Shop, Shea Butter Production Company, Estates Managements, and Fashion Design.
Read More:
http://www.ghananewsagency.org/education/educational-institutions-must-offer-solutions-to-societal-problems-127448